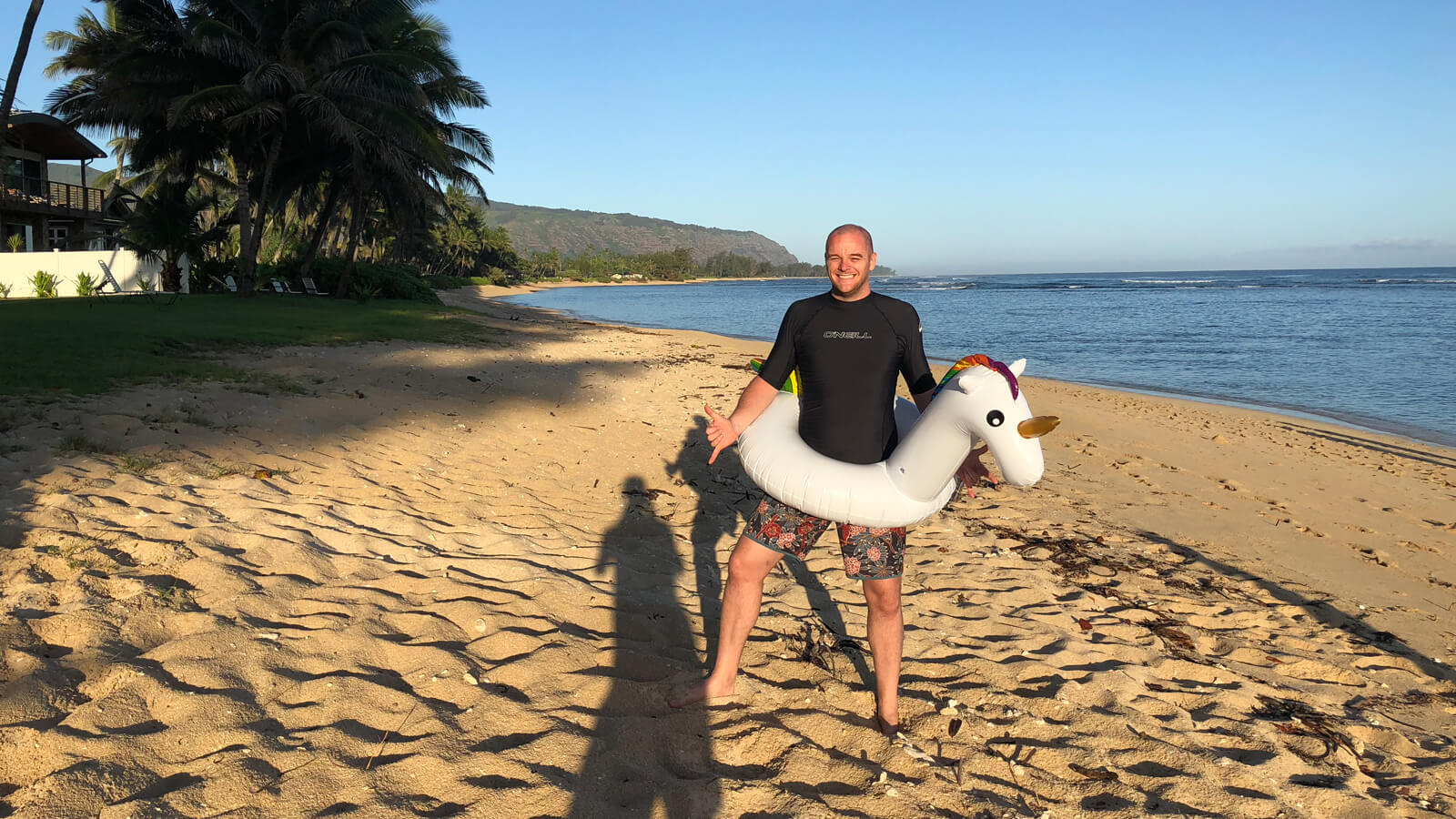 Yes, thats me with an inflateable unicorn!
Swimming was a big part of my early teens. I swam for a local club called Triple-S (Now merged with once arch rivals Perry Beaches), training four nights a week and the occasional 6:30am Sunday morning session to boot, with regular Saturday night competitions.
Being part of a swimming club was great fun, hard work but very rewarding, I made great friends, travelled about and can honestly say enjoyed (almost) every minute of it… But then life happened and for almost 20 years, I left (serious) swimming behind.
Mid-30's arrived, I needed to do something to keep active and stay healthy – I also enjoy food so anything that I enjoy doing and burns an extra 900+ calories a day is a win-win.
Why the 1,000 pool challenge?
I travel often for work, throughout the UK but also further afield to Europe, the Middle East and North America – Being away from my home pool for days or weeks at a time, it was always a real struggle to get back in the swing of my regular 12 – 16km over 4 / 5 sessions per week routine. I decided to build swimming in as an important part of my travel – I like prompts to keep me pro-active, so researching great pools, revisiting past favourites and writing about them I figure will keep me motivated – If you're reading this now and the homepage 'days since last new pool' is greater than 40 then please do feel free to email with encouragement and mild abuse!
I hit on the idea and started the journey several weeks before I launched the site, I was planning a work trip to the US and researching pools to slot in-between my calendar as I travelled from New York, to Washington and Philadelphia.
I only wish I'd started counting years ago, I estimate I've already covered more than 250 pools in my time but, rules are rules and if I want to include them, then I'm going to need to revisit some of my favourite (and not so favourite) pools of my past!
Pool Rules!
To keep things in order and ensure i'm not recording every puddle and pond, each recorded pool and swim must meet the following criteria:
The pool must be a known, measured length of minimum 20 metres
The swim session must be at least 1,000 meters in total
The pool must be recorded using the Germin swim and syncronised to swim.com
How long will it take?
I reckon the first 50 pools will happen quite quickly, I've already researched and planned trips to quite a few but soon enough, I will start to exhaust the easily accessible pools and progress will slow. I will also continue to swim my usual home pools for my day-to-day workouts.
Realistically, I think this will take more than 20 years to complete – but I like the sound of that, if I do manage to achieve my goal of 1,000 pools, I will be a happy guy!
My Swim Kit
People do often ask about my watch… I use a Garmin Swim. It's a great bit of kit and really has transformed my attitude to my swimming - and certainly suits my competitive nature!
I use the Garmin app but also swim.com to keep the element of competition alive!
In the good old days of club swimming, I had a louder than a fog-horn coach yelling at you from the pool deck, stop watch in hand, counting every lap whilst hurling endless swim sets on ever shorter intervals! I still wake in the night hearing 'Bi-lateral Summers'! When it's just you, the pool and your need something to compete against.